---
Archive blog from August 2020
For Bipolar UK, the national charity dedicated to supporting individuals, their families and carers with the condition of bipolar, the opportunity to develop a new digital service (the Bipolar UK chatbot) that could extend their reach was one of the key drivers that prompted the charity to apply for the Tech for Good Programme. 
Moving in a digital direction
Fiona O'Brien, Moderator for the Bipolar UK eCommunity, the charity's online peer support forum, and the charity's project lead on the Tech for Good Programme explains: "our CEO wanted to move us in a digital direction and this provided an opportunity on a relatively small scale to create a new service, enhance and extend our services."
We spoke to Fiona at the close of the programme to learn more about her experience of the programme, the changes that the new chatbot has brought about and what's next for the charity. 
Start small and learn as you go
The team had a hunch that introducing a service that could easily respond to commonly asked questions about bipolar would allow them to support more people, provide out of hours support and a by product discovered as part of the project was that the bot could also free up crucial staff time. They started by testing a basic model of the chatbot with limited information about bipolar as a means to respond to frequently asked questions about the condition.  
Thanks to funding and digital design and development support from the programme, the Bipolar UK team were able to expand the chatbot, to answer a broad range of bipolar- related questions from users. Fiona remarks, "when we first started the programme there were less than 100 questions in the system, there are now nearly 2500 questions in the system.
"At the outset, we thought it would be all things to all people and when we did the first round of user testing we realised that needed to change." The service is now aimed at users who are either pre-diagnosis or newly diagnosed, 'because those people don't have a lot of experience with the diagnosis and they're hungry for information," says Fiona. 
In addition to information, the chatbot also gives users the opportunity to book a phone call with the charity's support line. Bipolar UK's eCommunity, with over 5,000 members, offers further 24/7 support for people who have moved beyond the 'pre-diagnosis or newly diagnosed' phase and are more familiar with the condition.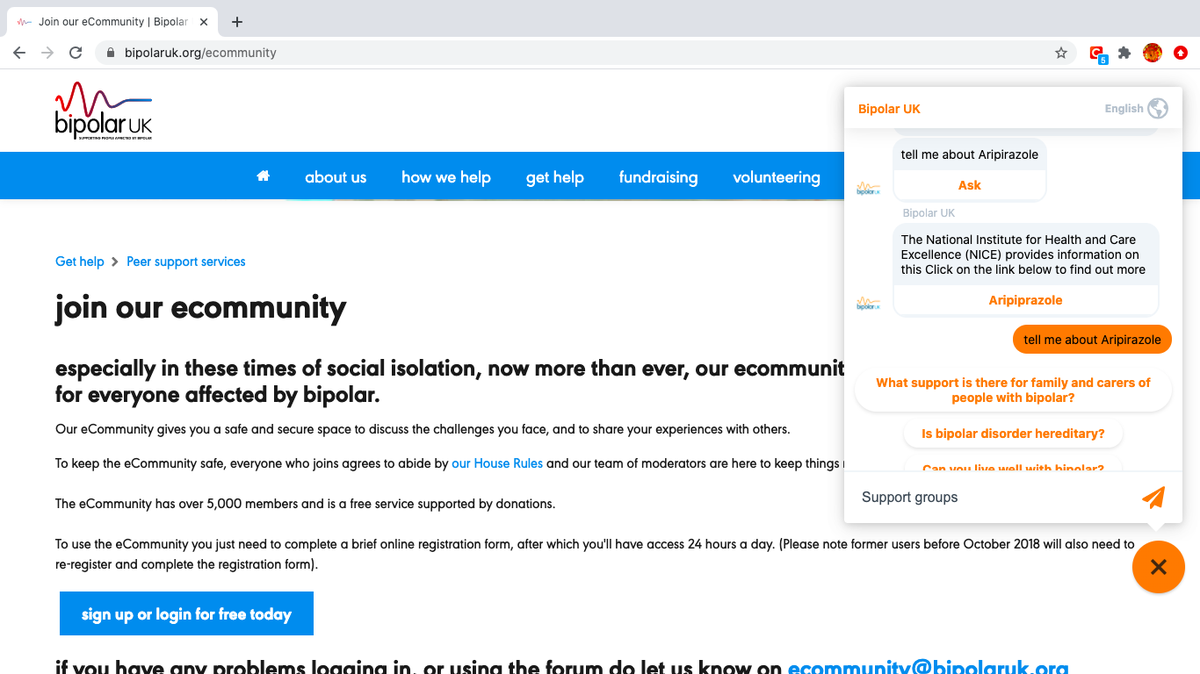 What impact has the programme had on the charity?
With a small team of 11 people working hard to deliver the charity's crucial services, efficiency is key. Fiona explains: "through the chatbot we've managed to generate over 308 hours of conversation over the course of the programme, which we wouldn't have had without it." 
She says that the questions received through the chatbot are often similar or related, and that it would usually take up hours of staff time to craft individual responses. With the outbreak of COVID-19, the demand for information and support has increased sharply and the team would've been stretched to capacity without the chatbot. 
"An additional benefit of the project is it's accelerated our drive toward digital services," says Fiona. Some of the digital initiatives the team has launched in the last six months include online peer support groups and bi-weekly Facebook Live streams led by the charity's CEO, Simon Kitchen. 
Challenges and adapting to post-COVID ways of working
It hasn't all been smooth sailing and Fiona cites recruiting people for user testing as one of the main challenges they faced when they did some initial testing. "We did our first round of testing in October and of course those were face to face sessions, so we were asking people to come to London to sit in our office with me and a laptop and go through the functionality and the design of the chatbot. We had quite a big drop out the day before and the day of the testing, which was quite disappointing." 
When COVID-19 hit, they were forced to quickly adapt their plans and instead explore remote user testing, which allowed them to reach a broader audience outside of their immediate location. "The second round of testing was in March, which was post-lockdown, which in theory was easier because we were doing it online and we did get a lot more expressions of interest from outside London." 
The team had also developed an additional feature for the chatbot, that had to be adapted as a result of COVID. "We developed a postcode search for support groups around the country. So we did that and then COVID hit and support groups stopped. It took us a little while, but we then offered online meetings in lieu of support groups, but only in certain areas. So there were some constraints, however we've kept the basic feature available but added online meetings against the local groups that are offering this facility."
Beyond this there have also been more far reaching changes in the charity's ways of working. Historically, Bipolar UK has operated out of an office in London, with support groups around the country run by volunteers. Fiona explains: "as a result of COVID-19 we're going to become a virtual organisation, so we are going to have to examine all of our processes, procedures and services to make sure that we're offering them to as high a standard as in the past, but using technology to support that." 
She adds that the charity initially went into the pandemic with 'great trepidation' but that they are feeling more confident about these changes now. Partly because of some new funding they recently secured, but also because they are slowly building up a broader digital support offering. 
Programme learnings
We asked Fiona about the key benefits and learnings from the programme and she shared her top three:
Involve users early: "It was so useful getting the insights of people who are real clients of the service, because when you're working on something - and developers I think are similar - we make assumptions about what's good, what works, what we like and when you put it in front of somebody who's never seen it before, you get a different perspective, which is really helpful." 
"More haste, less speed": "We took our time for good reason; we looked at safeguarding, when moving to online support meetings. We looked at the technology and at providing our facilitators with good support and training on how to use that technology. Some people may have done it sooner, but we did it successfully." 
Think about digital safeguarding: "You've really got to make it obvious to people where the crisis or emergency button is or how you can find that service immediately." 
Fiona adds that "through the support of CAST and my Digital Coach I got access to expertise that I just wouldn't have found by myself. I spoke to four or five different people, specifically at one point around digital safeguarding, which of course is crucial and we learnt from what other people had already learnt, rather than reinventing the wheel, so we could make quite confident decisions about the development of the service based on what other people told us worked." 
Advice for other charities
Fiona's advice for other charities going through a similar digital process: "Talk to other people before you make a start, because you can pick up all sorts of gems from people who've already been there. But also, when you talk to a person, you can dig beneath the real story you know, it's not just the PR, it's the 'what really happened'." 
She adds that she met many other charities through the programme, many of which were really small, so building services that could help them deliver support on a small staff base was really valuable. Her advice for other charities considering applying for the Tech for Good programme in future is: "Go for it! We wouldn't have the chatbot had it not been for this funding."
‍
Thanks to Fiona and the team at Bipolar UK for sharing their journey with us. To learn more about their work, see https://www.bipolaruk.org/.