---
Archive blog from September 2020
Hestia is a charity which supports children and adults in crisis, including domestic abuse situations. The charity took part in the Tech for Good programme, where they received bespoke digital support from CAST to develop a tool - an app called Respond to Abuse, which helps employers to support staff affected by domestic abuse.
For Eve Critchley, the charity's digital innovation lead, the first key lesson was that it's vital to undertake early stage research – what is commonly called the "discovery" phase in digital practice.
Eve said the charity had learned a huge amount by working with potential service users, and that doing so had changed the whole focus of the digital project they wanted to work on.
Test your assumptions through discovery
"The biggest learning for us has been about spending time in the discovery and research phase," she said. "You may have an assumption about what you need to do, but that's just an assumption, until you have tested it out."
In Hestia's case, this is exactly what happened. The charity initially planned to develop a tool that would provide support for perpetrators who wanted to change their behaviour, but as they researched this, it became clear this idea, although valuable, was not feasible. 
"We learned the number of people we were likely to reach through an intervention like that would be very small," she said. "That was the first thing."
Further research revealed one reason why domestic abuse interventions have tended to focus on helping victims – it's seen as easier and safer. But Hestia wanted to find a different approach.
"When we spoke to employers we discovered there were a number of situations where they might encounter a potential perpetrator in the workplace," Eve said, "so actually it did feel that there was a real gap in domestic abuse prevention that we could help to tackle. We started much too wide, narrowed our focus, and learned we could do something we hoped to do anyway, which taught us the value of that process."
Mentors and peer support
Another lesson was the value of partners. The Tech for Good programme came with both a group of experts who could be consulted, and a peer group who were also going through the programme. For Eve, both were extremely useful, and her advice to other digital leads in charities is to cultivate both peer and mentor relationships where possible.
"My stand out advice would be to build a bank of trusted, critical friends," she said. "We knew this was going to be a collaborative process, and it was hugely important to have digital expertise that we could draw on."
Experts were useful not just for mentoring advice but also to provide support within the charity.
"You need to bring people along with you," Eve said. "Experts provide the kind of reassurance for people internally who might have questions or concerns."
For her, though, the highlight of the programme was working with a peer group, who allowed her to put into perspective the difficulties of the job, and see that others were facing the same issues.
"It's been a highlight glimpsing other organisations' digital journeys, and seeing organisations working in exciting ways, really involving users in design and development, and knowing that you have those opportunities coming up where you can share what you're working on," she said. "I came into Hestia from a larger organisation where I was part of a bigger digital team, so for me personally, coming into a situation where I was the first digital specialist role, that can feel a little bit lonely. It was really helpful to see that I wasn't the only person struggling with this."

What next?
For Hestia, now, the journey is onwards and upwards. The charity is increasing its focus on digital at board level, with a new trustee subcommittee focused on digital, innovation and service design. And Respond to Abuse is now being shared with employers alongside the charity's training and support.
COVID-19, however, is creating new challenges for both staff and service users.
"We're very aware that some of our staff have done some brilliant things but lots of our service users really struggle to access digital tools and services, and don't have the hardware and money to do this," Eve says. "Staff are used to face-to-face, highly relational work. How does this change when delivering through digital?"
For those applying for the programme, Eve's advice is to think widely.
"Really think about how you can get the most out of it," she says. "You'll be asked to deliver a project, but you're also working on the wider issue, which is how you can help your organisation become more agile and user-centred. Think about how the ways in which you're working can apply to service delivery or project management. What are the things that people beyond your project might need to know? Really make sure you're applying the things you learn across all your work, and across the whole organisation."
Eve is already working on applying that lesson to her own charity.
"We want to do more," she says. "And we know that we can."
What did the finished product look like?
Some sample images from the Respond to Abuse app are visible below.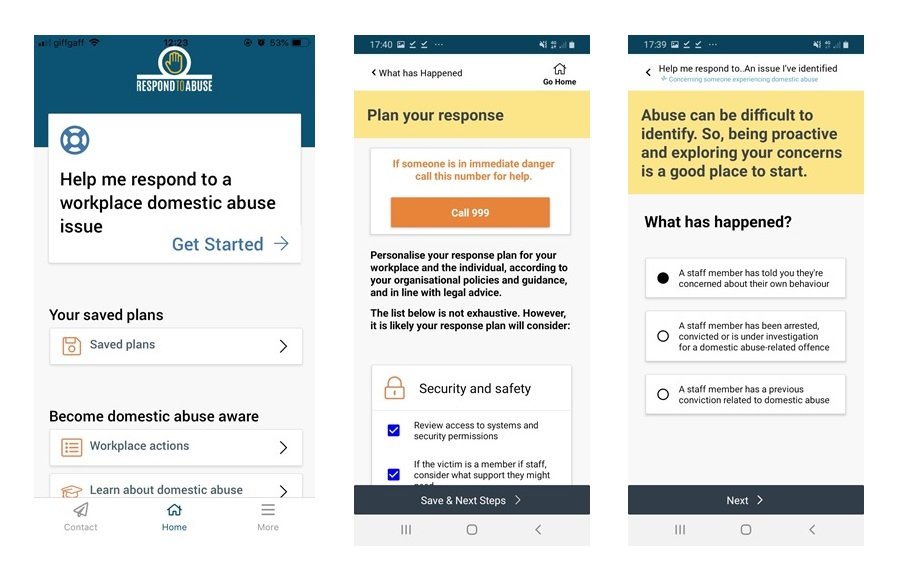 Background
The Tech for Good programme was developed to help charities use technology to deliver better services. Charities receive a monetary grant alongside an intensive package of support from experts, with the intention that at the end, the charity will have a new or very different product.
Projects last for nine months. Each includes a two-month discovery phase incorporating user research, an intense four-month definition and development phase where teams work with a tech partner to develop a potential solution, followed by a three-month launch phase. The programme is funded by Comic Relief and Paul Hamlyn Foundation with intensive programme support provided by a consortium of support partners (doteveryone, Founders and Coders and Snook) led by CAST.