---
Archive blog from September 2020
stem4 is a health technology charity with just five part time staff and a volunteer chief executive, Dr Nihara Krause, who leads on the charity's digital work as well as managing a wide range of other services and continuing to work in a full time job as a clinician.

The charity worked with the Tech for Good programme to create an app to help young people suffering from depression. The app is designed to help young people make changes in behaviour to increase motivation.

Unlike other charities in the Tech for Good scheme, stem4 describes itself as having been "digital right from the start". It came into the programme having created three other apps addressing different aspects of mental health, and having been through previous rounds of Tech for Good funding. The charity has a digital partner it works closely with, which is able to create apps that meet NHS standards, and its previous apps have been downloaded 1.5m times.
Building on existing experience

As a result, stem4 approached the Tech for Good programme with a lot of confidence and belief it could make the process work again.

"We started off being digital right from the start," Nihara says. "We were lucky. A lot of the stuff like convincing trustees and training staff, we just didn't have to do. We'd already been lucky enough to be part of a Tech for Good project previously and we learned a lot, so we decided to try to run another digital project. We felt it could be of additional benefit to the work we do."

For her, the benefits of being further down a digital journey were extremely clear - an understanding of the need for research and evidence, a familiarity with designing and prototyping, and a confidence in the charity's abilities to keep things focused and iterate quickly.

Consequence scanning

A major new tool that she found useful was the idea of consequence scanning - a process for working through all the things that might happen as a result of your work, both good and bad, intended and unintended. 

All Tech for Good grantees benefitted from CAST's digital coaching and a suite of bespoke support from partners like doteveryone, who developed the Consequence Scanning Agile Kit and worked with grantees to map potential consequences and responses.

The biggest learning from the programme was about the need for user involvement - something that all charities involved in Tech for a Good emphasised. stem4 came into the programme having both engaged with service users and reviewed the clinical evidence base, and Nihara says this allowed them to progress without having to significantly pivot or change.

"We're quite experienced in digital production," she says, "This is our fourth app. We've gone through the process quite a lot. The ideas are fed in by young people, we'd already done our research, I'm a clinician, so I'm already aware from that perspective of what the needs of young people might be. We worked through the programme, took the support offered, and delivered our initial idea. It was very rewarding to see that the service we were offering was going to be useful for young people."

The major change, she says, was the same as for scores of other charities: the arrival of COVID-19, which impacted on beneficiaries and potentially created a new source of concern for young people at risk of depression. The charity changed direction to accommodate this.
"The stand out piece of advice is that it's really important to have an evidence base," Nihara says. "There are a lot of good ideas around but they aren't informed by research and user need and practical viability. Make sure that your model is sound."

What next for stem4? 
The big plan now is to see if digital can be turned into a revenue stream to help the charity grow.
"The first step is to market the current app, consolidate all our products and look at how we can potentially monetise them in some way," Nihara says. "We have a couple of licences with our products with the NHS, which is a good start, but we want to strengthen the products we offer to have a bigger reach."
Like many charities, stem4 is also thinking hard about accessibility and digital exclusion.
"We have been creating good old-fashioned paper versions to reach out to communities who can't easily access our products," Nihara says.
So what advice does she have for other charities considering seeking out Tech for Good support?
"Apply," she says. "It will change your digital journey. Use all the resources that are offered. And good luck."
What did the final app look like?
The images below show what the Move Mood app looked like when stem4 were finished.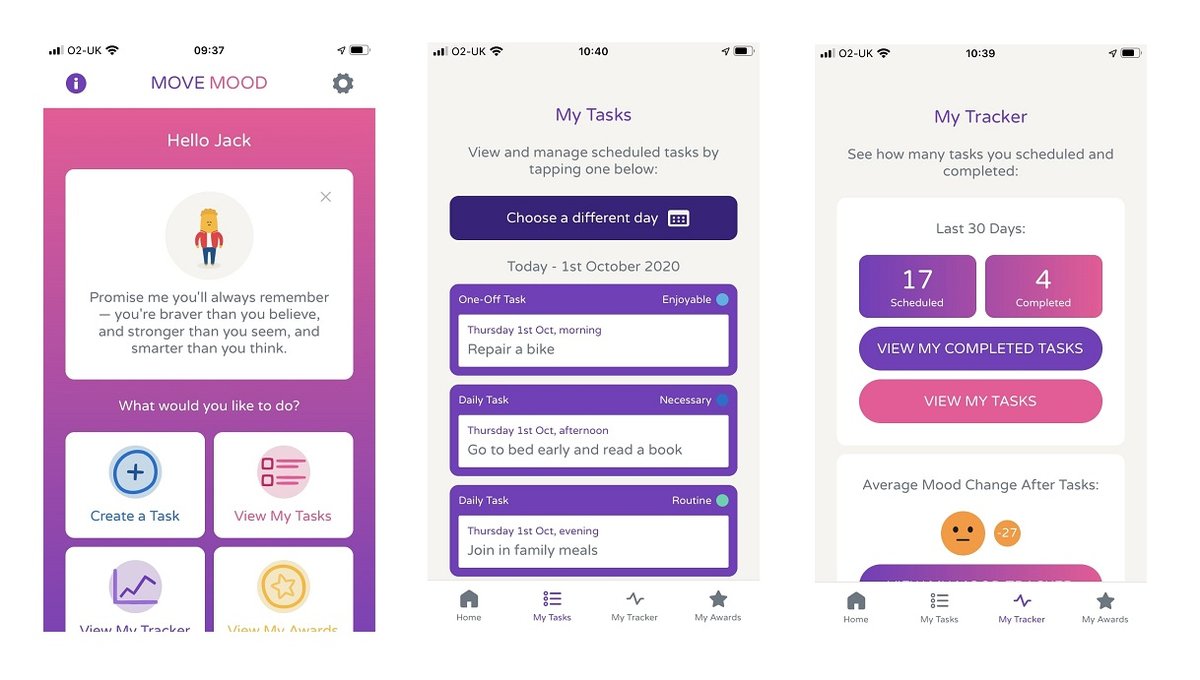 Background
A video about the app the charity created is available here. An accompanying booklet is available here.
The Tech for Good programme was developed to help charities use technology to deliver better services. Charities receive a monetary grant alongside an intensive package of support from experts, with the intention that at the end, the charity will have a new or very different product.
‍Projects last for nine months. Each includes a two-month discovery phase incorporating user research, an intense four-month definition and development phase where teams work with a tech partner to develop a potential solution, followed by a three-month launch phase. The programme is funded by Comic Relief and Paul Hamlyn Foundation with intensive programme support provided by a consortium of support partners (doteveryone, Founders and Coders and Snook) led by CAST.